Word or two about Beckett
An artistic resume is filled with controversy, especially if they are at the very top of their art. In the world of artists, the most valuable respect that any artist can get, is respect by his fellow artist. Because after all, his work prevailed over the consequences of public work and life. The genius French Irishman Samuel Beckett, the man who made highest impact in the theatre in the second half of the twentieth century, and one of the few from this kind in all literature at all was highly respected among his colleagues.
This are some of them with thoughts on him and his work.
Enjoy!
ABOUT BECKETT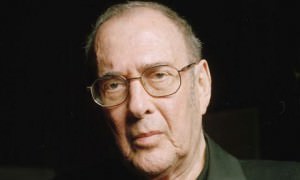 Further he goes, more I enjoy, I'm not about philosophy, dogmas, believes, exits, truths, answers, nor what is for sale at the basement of society.
He is the bravest of all contemporary writers, further he puts my face in shit, I am that much more grateful. He doesn't play games with me, doesn't walk me trough the park, he doesn't sell me anything, doesn't offer a medicine or a way out, or a revelation, he doesn't sell me anything I do not want to buy. He doesn't give a fuck if a buy or don't buy, he doesn't swear with the hand on his heart.
That is why I buy his stuff, I swallow it all the way, because he doesn't leave a single rock in tact, a single worm at peace.
He creates body of  beauty.
His work is beauty!
Harold Pinter
SAY 'YES' TO THE MUD
Beckett always irritates people with his respect. He creates things. He puts them in front of us, that what he shows us is horrible, and being horrible, in the same time fun.
He shows that there is no way to get out of it, witch inevitable makes us bitter. From that, there is  no way out. Many still, run to the theatre with expectancy that for about two hours the stage writer will give them some answer. We would never accept an answer he could give us, the again led by some unreasonable logic, we wait.
When some of Beckett pieces is being performed, immediately we can hear: all his pieces are negative. That phrase is most used. And with that exact words would like to occupy mu self, because in my opinion, we do not have anything that will be more positive than Becket's works.
Peter Brook
BECKETT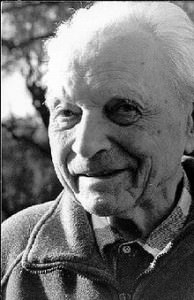 What remains of a man, when he doesn't have anything but naked life?
There is nothing: family, state, planes, worries, art doesn't make sense any more, the diary is empty, there is no future ahead, there is nothing to work, there is no one.
What remains when we lose everything, but naked life it self? Words, grief, look…
Mumbling words, last proof that someone is still here, someone is talking.
Words…last noise, moment before silence comes, tears, harsh story with yourself.
But, why listen to that? Is that who speaks still a human? That being that doesn't know where he is, who is he, where is he from, paralyzed body with mumbling mouth, a lunatic look, shivers, incapable to love, to admire, to believe, even to think…
Human?
That piece of trash in the garbage can, that worm in the mud…
No, that is not a worm any longer,
It's a thing. But the thing talks!
What's coming out of the mouth, doesn't make any sense: it mumbles laughter with anger.
But it talks.
When everything is lost, the word remains.
Lonely on the border of nothing, the last proof of human presence, and if it becomes lost, then, there will be nothing at all…
But, what those words in agony mean?
Is there anything for us, active people, consumed by life?
What can we learn from ignorance, indifference, numbness?
What is the connection between close to death mumbling and everyday useful sentences?
What weights more?
Rich life that shines or naked life?
Where is the seriousness?
Where lucidity?
On what side is debt?
You need everything that doesn't mater in life lost, so you can see truth of life, ignorance, limitation. suffering.
Jean Onimus