Many of us certainly knew, or have already ride the novel Don Quixote de la Mancha, by Miguel de Cervantes, published in two parts (1605 – 1615). The story for the brave knight with big heart, through the years, became inspiration for lot of artists, and for their works of art, theater, opera, dance, ballet, music and film.
The first ballet interpretation was in Vienna in 1740, focused on the central character of Don Quixote. For the first time in Russia ballet was premiered in 1869, as version of choreographer Marius Petipa.
Bolshoi's Don Quixote isthe ballet in three acts based on a novel following Spain's legendary knight Don Quixote and his faithful companion, Sancho Panza, and their adventures to the Barcelona, looking for Dulcinea, lover of his dreams and fantasies. Don Quixote meets the Kitri, and he mistakes Kitri for the woman of his dreams. Kitri's father want to marry her for a rich men so, there are lot of obstacles and adventures for two young lovers. The story takes flight and they fill the stage with happenings in street life, with matadors and sounds of castanets and tambourines. Don Quixote, brave knight and his faithful companion help the young couple in a lot of ways in this classic story.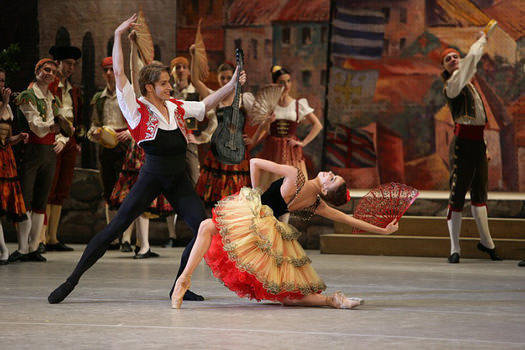 New choreography design is by Alexei Fadeyechev, costumes are based on sketches by Vasily Diyachkov (1903), revived by Tatiana Artamonova, Elena Merkurova, and music director is Alexander Kopylov. All the magic in the scene brought great artist as Ekaterina Krysanova, as Kitri (alias Dulcinea), Dmitry Gudanov, as Basilio, a barber, Nikita Elikarov as Don Quixote, an errant knight, Alexander Petukhov as Sancho Panza, his squire Denis Savin as Gamache, a wealthy noblemanAnna Rebetskaya as Juanita, Piccilia, friends to Kitri and many others in as toreadors, street dancers, dryads and other roles. Bolshoi's Don Quixote abounds with fantastic images of technical wizardry and fascinating feats, with glittering costumes. Russian ballet is powerful and thrilling, making audiences to believe that dryads, gypsies, and knights appear out of nowhere.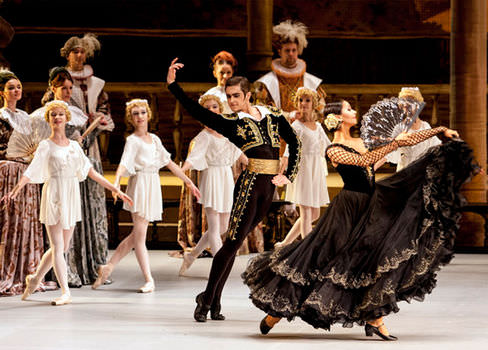 The Bolshoi Ballet performs Don Quixote with breathtaking brilliance. (The London Telegraph)
Bolshoi Ballet (1776) is one of the world's oldest and most renowned ballet companies. It is known outstanding ensemble skills with power technique and dramatic intensity, lavish scenery and costumes and bold choreography.