Katalin Ladik is charismatic, provocative poet, performance artist and actress. She was born in Novi Sad, Yugoslavia 1942, but she has lived and worked alternately in Novi Sad, Serbia, in Budapest, Hungary and Croatia.
She writes poems, and creates sound and visual poems, performance art, and performs experimental music and audio plays. She is an experimental artist, and creates happenings, mail art, experimental theatrical plays, always explores language through visual and vocal expressions, as movement and gestures. Katalin, during all this years, create also collages, photography and records in her performances in urban and natural environments.
She became famous poet after 1962, with her style, unique poetry a surreal and erotic poems and performances. She is author on more than twenty poetry collections, and big number of books and volumes were published in Hungarian, Yugoslavia, France, Italy and the USA, and into more than a dozen languages.
Ladik's literary production, her text-based, visual sonic poetry, has been received with great acclaim. After her ground-breaking performance in Amsterdam in 1977, she has been at the top of Europe's sound-poetry scene.
Her performances are on the borderline between performance art and theatre: the performance of sound poems is accompanied by theatrical body action, the surrounding space is structured similarly to a traditional theatre. Those who examine her poetry often refer to her sound poetry performances. No detailed analyses have been produced about the dramaturgical characteristics of her performances. She is one of  the most known as female performance artist, as Katalin Ladik uses her body and person as the medium of her art in her performances, which occupies a special position in  the history of art.
She joined the newly established Novi Sad Theatre in 1974, becoming a member of its permanent ensemble in 1977 and working there until 1992. She primarily acted in dramatic roles. Over the years, she also played major and minor roles in various TV-films and movies. She led the poetry sections of literary magazines Élet és Irodalom (1993–1994) and Cigányfúró (1994–1999). Between 1993 and 1998 she taught at Hangár musical and theatrical education center. She is a member of the Hungarian Writers' Association, the Hungarian Belletrist Association, the Association of Hungarian Creative Artists and the Hungarian PEN Club
Katalin Ladik created a music performances including experimental music and jazz, and she collaborated with prominent Croatian, Serbian and Hungarian composers, as vocalist.
CAN I  LIVE IN YOUR FACE?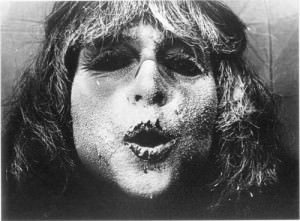 Her first novel, entitled Élhetek az arcodon? (Can I Live on Your Face?) was published in 2007 by Nyitott Könyvműhely. It is considered to be an eminent work in Hungarian Avant-garde literature. It is partly autobiographical, partly self-reflecting. The novel alternates between reality and fiction, prose and poetry, sometimes switching to a prose poem style. Its main target audience is that part of the artists' community who are receptive to esoteric allusions.
The book is about three women: the Editor, who lives in Budapest, the Artist, and the Glasswoman who lives in Novi Sad, all of whom bear the same name. The shared name determines their lives. Initially, they unaware of each another, but throughout the book their lives get gradually intertwined. After get to know one another, they begin to live each other's life, which forever changes everything for them. One of the peculiarities about the book is the uniquely rich textual documentation (letters, newspaper articles, posters) and the large number of photos. The novel creates an organic unit incorporating these. She is the winner of numerous awards including the bestowal this year of the Laurel Wreath of Hungary.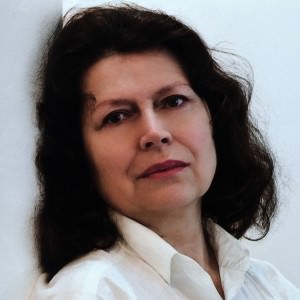 Her awards for acting consist of the October Award of the City of Novi Sad, a collective award to the cast of Radio Novi Sad in 1967; first place Festival of Professional Theatres in Vojvodina in 1978, for the role of Masha in Three Sisters, directed by György Harag, performed at the Novi Sad Theatre. The same role earned her the first place of Association of Dramatic Artists of Serbia, in 1979. Katalin Ladik also received the Award of the President of Hungarian Television for Acting Excellence for acting in András Rajnai's TV film series, Televíziós mesék felnőtteknek (Television Tales for Adults) in 1980.
Lately, Ladik has earned various awards, including the Kassák Lajos Award (1991), the award of Mikes Kelemen Kör (Mikes International – Association for Hungarian Art, Literature and Science in the Netherlands) (2000), the József Attila Prize (2001), the Mediawave Parallel Culture Award (2003), the National Award for Culture of the Republic of Serbia (2009), and the Laurel Wreath Award of Hungary (2012).