"No one survives life."
Will we ever know???
Sarah Kane an English playwright, controversial and disturbing, and her plays deal with themes of redemptive love, sexual desire, pain, cruelty, torture, and death. Her plays are characterized with a poetic intensity, pared-down language, and, in her earlier work, the use of extreme and violent stage action.
She struggled with intense manic depression for many years, but continued to work, and was for some time the writer-in-residence at the Royal Court theatre.
BIOGRAPHY
Sarah Kane was born in Brentwood, Essex, 1971, and raised by evangelical parents, Kane was a committed Christian in adolescence but later, she rejected those beliefs. After attending Shenfield High School, she studied drama at Bristol University, graduating in 1992, and went on to take an MA course in playwriting at the University of Birmingham, led by the playwright David Edgar.
Kane struggled with severe depression for many years and was twice voluntarily admitted to the Maudsley Hospital in London, but, she wrote consistently, throughout her adult life. She was writer-in-residence for Paines Plough, a theatre company promoting new writing, where she actively encouraged other writers. Before, she had worked as literary associate for the Bush Theatre, London.
FROM THE BEGINING…
Her first play, Blasted, created the biggest theater scandal in London since the baby stoning scene in Edward Bond's play Saved, an author Kane adored and who in turn publically defended Kane's play and talent. Other dramatists who influenced Kane include Samuel Beckett, Howard Brenton, and Georg Büchner, whose play Woyzeck she once directed.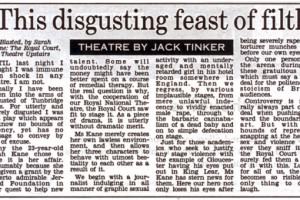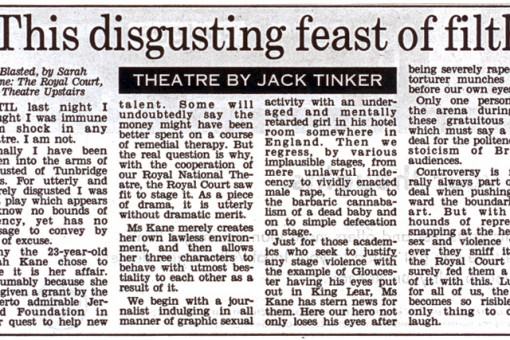 The Daily Mail described her first play as "This disgusting feast of filth", but  she is now acknowledged as a major force in British theatre and one of the key-figures of the so-called In-year-face theatre, whose promising career was brought to a premature end by her suicide in 1999. However, this change of critical opinion only occurred with her fourth play, Crave. Originally published under the pseudonym of Marie Kelvedon in order to allow critics to examine it not as a new play by the author who lets characters suck out other characters' eyes or barbecue genitals but as a play in its own right, Crave concentrates on four characters, each only having a letter for a name, stuck in relationships to each other, the layers of which can only be seen after a thorough interpretation of the play.
TILL THE END…
Later works, like Crave and her adaptation of Phaedra's Love are widely praised, and she is labeled a prophetic (if near-unbearable) voice. But the playwright is battling fierce depression and in early 1999 attempts suicide by taking 200 pills. She is saved by a flat mate; two days later, she hangs herself in a London hospital.
She leaves behind final versions of her plays, including a new one called 4.48 Psychosis (after the darkest, saddest hour of night). Alongside are instructions to produce her work often but never to adapt them into films or authorize any biographies. Also, it is highly intersexual. Via this "new" image of Sarah Kane, her earlier texts have been reread beyond the surface revealing complex characters whose bruises are on a psychological level much more so than on a physical one.
4.48 Psychosis
Her last play, 4.48 Psychosis, was completed very shortly before she died and was performed a year after her death. In 2001, the Royal Court Theatre, which had staged premieres of all but one of her stage plays, produced a season of her work. The critics were unanimous in their acclaim for the woman they had once scorned as reminding them of 'the naughtiest girl in the class'. Her influence on the next generation of writers remains to be seen, but it is already there in the plays of Debbie Tucker Green and in Caryl Churchill's Far Away (2000).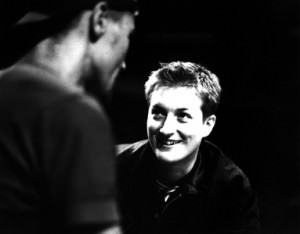 LIVING AFTER DEATH
Kane is almost universally praised in death, even by those who excoriated her in life. The Herald—which had once recommended she see a psychiatrist—now calls her "one of the most promising talents of the British stage," and in a league with Euripides, Seneca, and Racine. 4.48 Psychosis opens in 2000 at the Royal Court (again under James Macdonald).
Fearing that literal-minded Americans would see Kane as another Sylvia Plath (and 4.48 Psychosis as autobiography), brother and executor Simon Kane resists a U.S. production. But finally, in 2004, Macdonald's 4.48 Psychosis alights at St. Ann's Warehouse in Brooklyn, which has been trying to land a Kane production for years.
Though Kane's work never played to large audiences in the UK and was at first dismissed by many newspaper critics, her plays have been widely performed in Europe and South America. In 2005, the theatre director Dominic Dromgoole wrote that she was "without doubt the most performed new writer on the international circuit". Fellow-playwright Mark Ravenhill has said her plays "have almost certainly achieved canonical status." At one point in Germany, there were 17 simultaneous productions of her work. In November 2010, the theatre critic Ben Brantley of the New York Times described the SoHo Rep's "shattering production" of Kane's Blasted as "one of the most important New York premieres of the decade."