Music has been a central feature of theatre for more than 2000 years. It can be argued that musical theatre is, in fact, the dominant mode of dramatic art. As a specific genre of its own, however, musical theatre has emerged and developed in the past 150 years until today it is a dramatic form of great variety, artistic significance, and commercial appeal. America's best known contribution to world theatre dates from a synthesis of a melodrama, songs, and dances by scantily clad young women in the 1860s. By the late 19th century, black musical comedy, light operas, opéra bouffe, and Viennese operetta had expanded the musical's possibilities.
The Golden Age of the American musical theatre spans the first two-thirds of the twentieth century, but contained two distinct phases. The first, lasting from 1900 to the late 1920s, was an age of musical comedy, emphasizing comedy, singing, youthful romance, lightly clad chorus girls, occasional patriotic jingoism, and spectacular dancing. They also featured extremely simple plots, characters that were strictly romantic or comedic, unchallenging themes, and cheerful singing and dancing with little or no connection to the plot. In Harlem, the black musical attracted mixed-race audiences with its catchy tunes and energetic dancing. The musical comedy form was highly entertaining, but the Golden Age's second phase, musical drama, would shift its features into the form with which many people are familiar today. Increasingly sophisticated musical treatments and serious plots, now carried by the music and dancing as well as the dialogue, characterized the new phase. Works like Show Boat, Porgy and Bess, Oklahoma!, The King and I, and Fiddler on the Roof would achieve a level of commercial success unparalleled in the theatre's previous history.
The contemporary musical has become a diverse dramatic form. While most amateur-produced as well as Broadway musicals today are revivals of Golden Age works, many other types have been created. The last fifty years has witnessed great growth in the importance of choreography in American musicals, reflected by the emergence of choreographer-directors of such dance-intensive works as West Side Story, Chicago, and A Chorus Line.
The greatest influence on the modern musical, however, has been composer and lyricist Stephen Sondheim. His work, characterized by a disturbing plot, ironic and sometimes cynical tone, skepticism about conventional morality, and sophisticated, adult, and intricately rhymed lyrics in a score with surprising rhythms has introduced new subject matter and form to the musical in works such as Sweeney Todd, Sunday in the Park with George, and Assassins. Many of the world's most successful musicals today originated in Europe. Commonly these are sung-through musicals, such as Andrew Lloyd Webber's Cats and Phantom of the Opera or Frenchmen Alain Boublil and Claude-Michel Schönberg's Lés Miserables and Miss Siagon. Sung-through musicals feature lush musical scores and no spoken dialogue. The most spectacular Broadway success of a generation, however, has been Mel Brooks' The Producers, a return to classic musical comedy of the 1930s that won twelve Tony Awards and has had tickets sold-out up to a year in advance.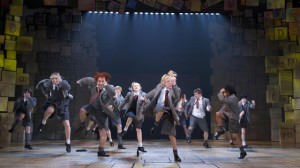 The modern musical has increasingly undertaken serious subjects, such as homosexuality, race relations, and environmental degradation. Black musicals have explored African-American culture and cultural issues, while family musicals have been recently pioneered to attract new audiences. Rock and other forms of music have extended the musical vocabulary of the genre, which has become the dominant force in Broadway theatre.
(This is an excerpt from the book Theatre: Brief version by Robert Cohen)