A classical actor knows he has arrived when he is asked to play Hamlet. Taking on the anguished Danish prince is a rite of passage. The other bookend in any great stage career is playing the mad, capricious King Lear.
According to Derek Jacobi, who performed Lear to critical acclaim four years ago, Hamlet and Lear are "the two hoops" every actor must jump through, on which their careers will be judged. But Michael Pennington, who played Lear at Brooklyn, New York's Theatre for a New Audience this spring, questions whether the role really is a rite of passage. "That implies you're on your way to something beyond," he tells me, "and I'm not sure where you're headed for via Lear, because you're never going to get a part as good as that again."
From Shakespeare's colleague Richard Burbage to David Garrick, Edmund Kean and Donald Wolfit; through Orson Welles, Laurence Olivier, Paul Schofield, James Earl Jones and Christopher Plummer; to Ian Holm, Michael Gambon, Ian McKellen and Jacobi, almost every great actor in theater history has had a crack at Lear. In the past few months alone, New Yorkers have been treated to the interpretations of Frank Langella and Pennington and screenings of Simon Russell Beale's Lear from the National Theatre in London.
So when John Lithgow tackles the role at the Delacorte Theater in Central Park, he will be walking in the footsteps of giants, even with his 6-foot-4-inch frame. Lithgow is joined by Annette Bening, as Lear's treacherous daughter Goneril, and Clarke Peters, from the TV drama Treme, playing Gloucester.
Lithgow might seem an unlikely candidate to play the raving king. Although he tells me he began playing Shakespearean roles as a boy in a family-run troupe, most of us know him as Dick Solomon in 3rd Rock From the Sun or as Sam Burns in Terms of Endearment. Yet Lear has been lurking in the back of his mind.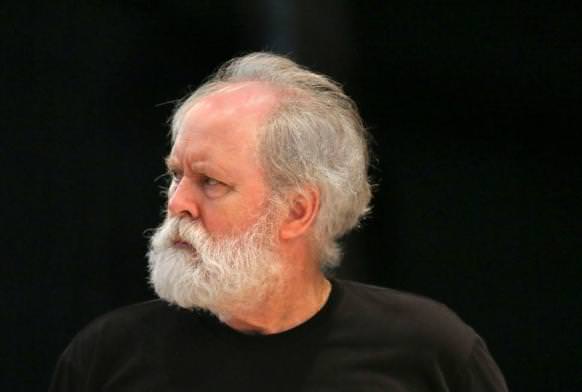 "I counted up. I've seen 10 Lears over the years," he tells me, "primarily British actors, including Paul Schofield, Ian McKellen and Derek Jacobi. I saw Schofield way back in 1964.
"I saw him play Lear about two weeks after my last performance as the Duke of Gloucester in a college production of Lear, so I really knew the play inside out when I saw it. It still feels like I saw Schofield's performance a week ago, it made such an extraordinarily vivid impression on me.
"I saw a production of Lear during the very first summer of the Delacorte Theater in 1962, with an American actor, Frank Silvera. That was my first experience of the play. I was 16 years old, and it had a huge emotional impact on me.
"So it was the easy answer over the years when anybody asked me what part I would dream of playing, and I thought I would get to it eventually. I've let a lot of years slip by without doing much Shakespeare. Now I'm just about at the age when I'm old enough to play it and still young enough to play it."
Lithgow put down a marker early. "As soon as Oskar Eustis was made the new director of the Shakespeare Festival I called him and said, 'Can we have lunch?' When I told him I'd like to play Lear, he said, 'All right, but you realize there's a queue.'"
Lithgow is not alone in believing every actor has a Lear "window." The problem is that the character is extremely old, yet the role demands great physical energy. Olivier was in his mid-70s when he filmed the role in 1983, and his frailty is apparent. Lithgow spoke to me from a sports club, "in training for Lear," he says, "swimming, swimming and more swimming."
London's National Theatre director Sam Mendes told Beale he was ready for the role after seeing him as the aging Galileo, angry and bitter, in Brecht's play. "He told me we should do it before it was too late," Beale said. "I was 45 at the time, but it was another eight years before I played it."
But it is not just the physical effort that makes the role challenging. The 19th century critic William Hazlitt remarked that it was "an impossible part to act," and Charles Lamb agreed, writing that Lear "cannot be acted." The critic Harold Bloom has said, "You shouldn't even go and see somebody try and act the part, because it's unactable.… I've never seen a Lear that worked."
However, McKellen tells me that Hazlitt and Lamb "were referring to the butchered contemporary versions. The part is eminently playable, as so many productions have proved."
McKellen suggests the play should best be seen as a sort of fable. It is Lear's journey from apparent sanity, when he is a monster, to apparent insanity, when he becomes human, that matters. "Lear is [for the 17th century] very old, and it would be odd were Lear not declining mentally. His eccentric and obsessive behavior is, however, probably ingrained, based on his divine right to rule which gives a reign full of ego.