"A dancer isn't great because of their technique… they're great because of their passion," said Martha Graham, and her passion make her one of the great artists, and most creative minds of 20 century, and give her career which less over the 70 years.
Martha Graham (1894-1991), was American dancer and choreographer, big visionary and one of the most revolutionary artist of modern dance. She freed the art of dance with lot of new dance movements and new body language, and used it to reveal the passion, making a totally new concepts. She made a revolution in way of dancing, special lighting, stage designing and minimal use of costumes.
Graham studied theater and dance at the University of Cumnoch, and she was truly inspired to become a dancer by Ruth St. Denis  and her modern dance exotic "Epytia". After graduating in 1916, she joined the Denishawn School, and moved in Los Angeles, where she danced several important roles, as Shawn's Xochtil. She brought a different dynamics and interpretation to modern dance, sharp angles and natural motion. There, she meet, Louis Horst, the composer, and they together left Denishawn.
Martha follows her father's maxim of "Movement never lies." Her abstract dance, minimal use of costumes and set decorations was disconcerting to audiences accustomed to the lovely fluid movements of modern dance introduced earlier by Isadora Duncan.
She started teaching at the Eastman School of Rochester, and later in 1927, she opened the Martha Graham School of Contemporary Dance. Her pieces, from this period, dealt with social problems, as Immigrant, Vision of Apocalypse, Lamentation, and Revolt. In 1929, she choreographed her first non-solo ballet, Heretic.
She danced with big passion, and she wanted to evoke with her dance a heightened awareness of life. Her dance were inspired by America's past, biblical stories, historical figures, classical mythology, primitive rituals, psychoanalyst Carl Jung's writings, Emily Dickinson's poems,  and Zen Buddhism.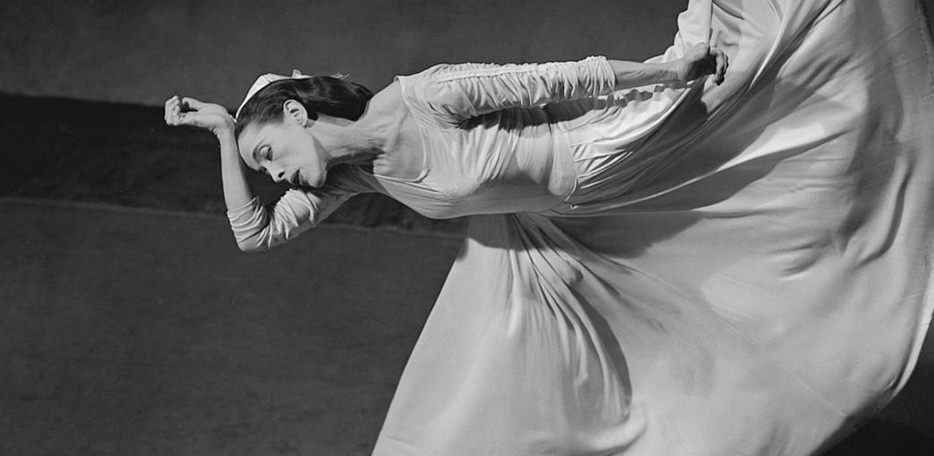 Graham founded the Dance Repertory Theater in New York in 1930, and because of the Depression, her ballets had no sets, and she made most of the costumes herself.
Graham toured the United States in the production "Electra"(1931-1935). She was inspired and fascinated by different cultures, and her interest in Native Americans was shown in the "Primitive Mysteries." She was the first dancer to receive a Guggenheim fellowship in 1932.
In 1936, she refused to go to the Olympic Games in Berlin and she took a strong political stance. In this period she created Chronicle, a statement against imperialism, Deep Song, a piece about the Civil War in Spain, and Frenetic Rhythms, dances concerning Indian and Mexican traditions.
Two years later, in 1938, Graham was invited by Mrs. Eleanor Roosevelt to the White House and she danced for President Franklin D. Roosevelt at the White House. For the occasion, she created American Document, and later she dance for seven other presidents.
In 1939, Merce Cunningham and Erick Hawkins (her husband) joined her company, and they toured in the United States and Cuba. For the Bennington Festival, she created El Penitente and Letter to the World.
Her most famous dance, "Appalachian Spring," was first performed in 1944.
Her dance pieces during this period dealt with mythology, including Cave of the Heart, which told the story of Medea, Errand Into the Maze, which dealt with the Minotaur, and Night Journey, which explored the story of Oedipus and Jocasta.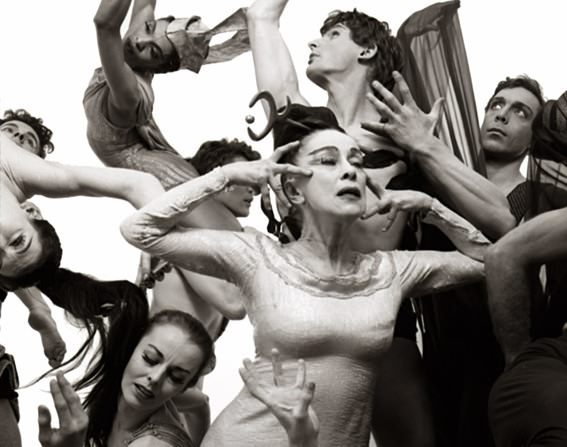 Graham's company embarked on their first tour to Paris in 1954, where her ballets were booed by the audience. Later she held more successes, and in 1956, and she won the Dance Magazine Award. Three years later, she created Episodes with George Balanchine, performed by her company and the New York City Ballet.
Graham faced a few years of depression and health problems that forced her to stop dancing. Her last dance was in Cortege of Eagles ,  but she, continue to create new work, such as Lucifer and The Scarlet Letter, works for Rudolf Nureyev and Margot Fonteyn. In 1984, Rudolf Nureyev invited her company to the Paris Opera, where she was awarded the Legion d'Honneur by the French government.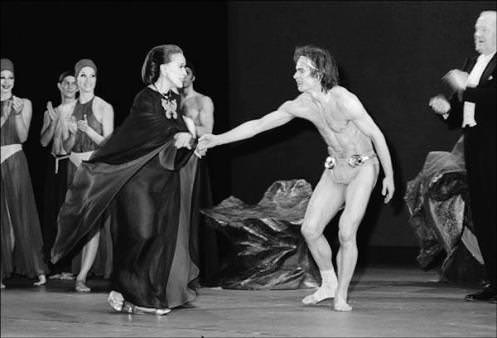 She said, "Without dancing, I wanted to die" because it was very painful for her to stop dancing.
Trough her rich and long life, full of joy of dance she produced 181 original ballets. A year before her death in 1990, she choreographed, at age 95, Scott Joplin's "Maple Leaf Rag"; the show featured costumes by Calvin Klein, and completed a book called Blood Memory. She was choreographing a new ballet called The Eye of the Goddess for the Olympics in Barcelona when she died in 1991 at the age of 96.
She is the first,  first dancer ever to perform at The White House, the first dancer to travel abroad as a cultural ambassador, and the first dancer to receive the highest civilian award, the Medal of Freedom. In her lifetime she received honors ranging from the key to the City of Paris to Japan's Imperial Order of the Precious Crown.
"No artist is ahead of his time. He is his time; it is just that others are behind the times."