When we speak about contemporary art it means that we speak about actual, modern, fresh, sometimes politically engaged art. We can love or don't, we can understood, or not, we can search for individual explanation, but we can be indifferent. When we (people from West) speak about Japan, we mean on something faraway, mystic, different, and we are always curios, if we wish to learn something new of course and if we want to make distances an differences smaller When we speak about contemporary art and Japan, we speak about Yayoi Kusama.
She is one of the leading Japanese most prolific artists working today. More than 60 years she is practicing encompassing performance, film-making, painting, drawing, sculpture, installation, fashion, poetry, fiction and public spectacles, and it is fascinate. Her exciting and vibrant work captivate audiences all over the world, and she is major influence on several generations of contemporary artists, and she become one of the most important female artists in the world.
Yayoi Kusama is born in, Japan 1929. She studied Nihonga painting, to deflect the wholesale influence of Western art through the revitalization of the traditions of Japanese painting. She moved to New York in 1958, to find her place the experimental international art scene.
Living in New York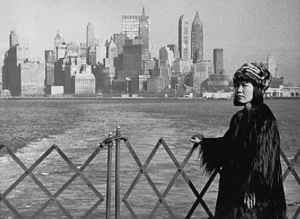 Her first art Net paintings was made in 1959, produced on big canvases up to 10 meters in width, entirely covered in undulations of small, painted loops.
In this work uses her psychosomatic associations and her complexes and fears as subjects. The infinity nets expressed her fear of self-obliteration, as a tiny dot in an infinite universe. She became leader of sexual liberation, organizing public happenings with nude participants, covered with polka dots. She developed striking bodies of work, including the phallic soft-sculptures Accumulation, Sex Obsession, and Compulsion Furniture.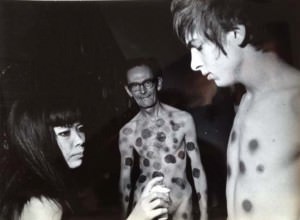 Later in 1967 she staged provocative happenings in various locations, painting the participants' bodies with polka dots or dressing them in her custom-made fashion designs, she made situational performances, which represent the merge between her inner self and reality.
Her happening Grand Orgy to Awaken the Dead 1969 takes place in New York's Museum of Modern Art and attracted much attention in the media.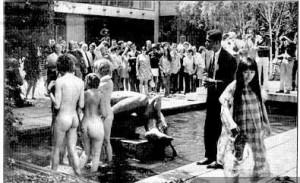 Back to Japan
Kusama returned to Japan, in early 80's and her writing poetry, short stories, shocking surrealistic novels, as her first novel Manhattan Suicide Addict, The Hustler's Grotto of Christopher Street (1983) and Violet Obsession (1998).
As artist, she revisits earlier themes, as the Infinity Net paintings and Accumulation sculptures. She continued to invent ingenious embodiments of infinity in Passing Winter — Hand-beveled cubes made with mirrors that displayed repeating self-portraits to their viewers.
Kusama was the first artist invited to show her solo art at the Japanese Pavilion at the 45th Venice Biennale in 1993. The exhibition brings together important early works from the 1950s, large-scale sculptures and paintings from the 1980s, as well as more recent works. She made a performance alongside Mirror Room (Pumpkin), a dazzling mirror room filled with pumpkin sculptures. She had a big success with her project and she continued to produce a huge yellow pumpkin covered with an optical pattern of black spots as an outdoor sculpture. The pumpkin, became a kind of alter ego for her.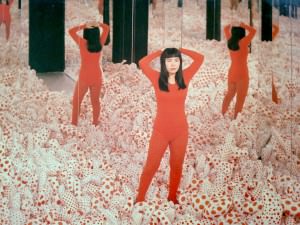 In 2006, Kusama creates a four-metre-tall red pumpkin for the "Naoshima Standard Exhibition", while her public work for the Singapore Biennale is installed in busy shopping areas. She receives two Japanese Lifetime Achievement Awards: The Order of the Rising Sun and the Japan Art Association's Praemium Imperiale.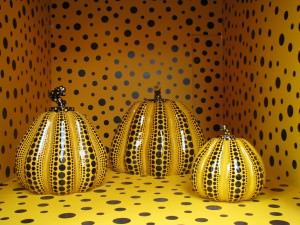 She has completed major outdoor sculptural commissions, in the form of brightly, monstrous plants and flowers, in Japan, France and USA. Kusama's work is in the collections of leading museums throughout the world.
Kusama today lives and works in Tokyo. In her autobiography, Infinity Net, lucid prose, is published in English and tells the story of her life in details.
Yayoi Kusama: Look Now, See Forever' opens at the Gallery of Modern Art in Brisbane in November.
"I will keep painting until I die." –  Yayoi Kusama
FIND OUT MORE AT http://interactive.qag.qld.gov.au/looknowseeforever/timeline/